Price benchmarks are a new beta feature in Google Ads with shopping campaigns enabled. You can use this feature to determine which of your products are price competitive and optimize accordingly.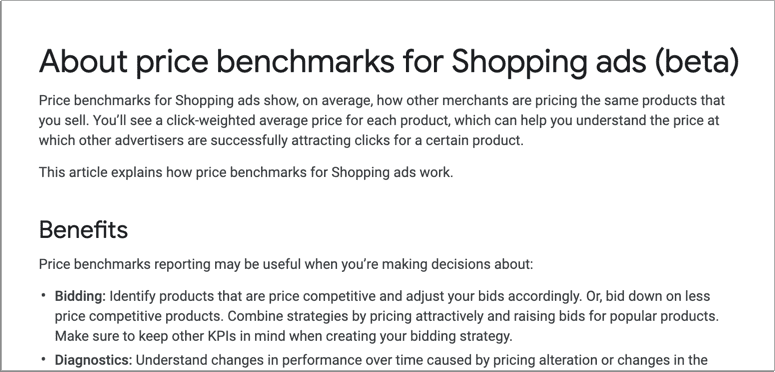 Google Ads Interface
Visit ads.google.com and select an account with shopping ads enabled. Within the Ads interface, select the Products tab for a shopping ads enabled campaign. (Hint: If you pick one without shopping ads enabled you won't see the products tab.) Use the interface to enable price related columns, including Benchmark Product Price, Benchmark Product Price Difference, and Average Product Price. Benchmark Product Price is a click-weighted price across all sellers of the same product. Compare this to your Average Product Price, and you'll see immediately if you're price-competitive; Benchmark Product Price Difference will tell you by how much.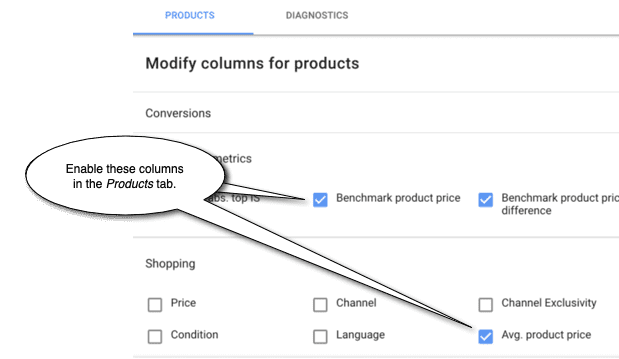 Use Cases
Use this information to adjust your bidding accordingly. For items where you're not price competitive, you'll probably want to adjust bids downward to reduce spend on items that aren't likely to convert. You may even chose to filter some items entirely. Before doing either of these, double-check the item performance to verify that this makes sense. Conversely, you may want to increase bidding on your most competitive items to boost exposure. Either case can also be applied to your overall product pricing strategy once you have this insight.
Caveats and Workarounds
Unfortunately, as of this writing, the price benchmark data isn't available via the legacy AdWords API nor the new Ads API. To automate actions, you'll need to export this data to a spreadsheet for sharing with other people or automated processes. We currently do this using Google Sheets with some customers, and it's proven to be a useful workaround, especially when the number of products is in the tens of thousands.
Full Announcement
For more details and the full announcement, visit Google Ads Help.