Last week Google made some relatively minor changes to their product data specification, but they're worth noting.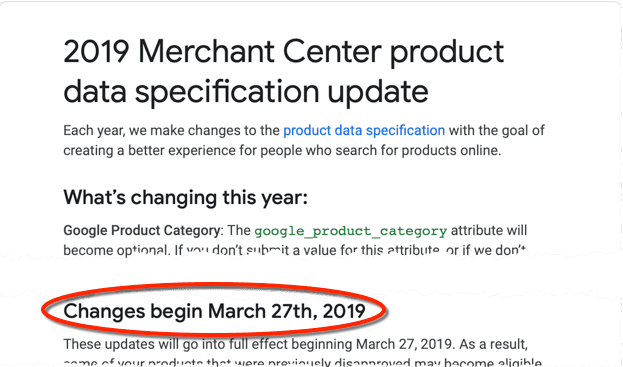 Google Product Category
The google_product_category field is no longer required. If you don't provide it, items will be auto-assigned to a category of Google's choice, so you'll want to provide this whenever possible to maintain control of the category where your items are merchandised. A side effect of this change could impact your budget from increased clicks on previously disapproved items.
Ads Redirect
Due to a platform improvement back in October, visitors go directly to your URL while tracking happens in parallel. A side-effect is that the ads_redirect must be from the same domain as your product links, potentially affecting click measurement depending on what you had previously configured.
Full Announcement
For more details and the full announcement, visit Google Merchant Center.